Our Section Trail Maintenance Paul C. Wolfe Shelter
See below for a special notice about owning land along the AT
The Club maintains a section of the Appalachian Trail between Reed's Gap and Rockfish Gap (just south of Waynesboro, where I-64 crosses the Blue Ridge Parkway).
We have just completed a relocation that avoids the congestion at Humpback Rocks and intersects with the original section of the trail just south of there.
The trail goes down hill gradually and has many excellent wintertime views.
The original section of the Appalachian Trail is still there. It is now a blue-blazed trail.
You can do a loop hike using it and the new section of the AT. The high point is the view from Humpback Rocks but the climb up (or down) to the rock on the blue-blazed trail is very steep.
Do You Want to Be a Landowner Along the Appalachian Trail?
And Have a Home in the Woods!

You can become a Conservation Buyer through The Appalachian Trail Conference Land Trust. Our program matches conservation buyers - people like you --with people who are selling land along the A.T.

You locate your home out of sight from the Trail, and all we ask is that you donate a conservation easement on the rest of the property. A conservation easement "runs with the land;" that is, no present or future owner can develop it!.

AND, because an easement is an irrevocable gift of a property right, you get a
nice income tax deduction equal to the value of the easement. Contact Bob
Williams, Director of Land Trust Programs, at bwilliams@appalachiantrail.org,
(304) 535-6331, or write to P.O. Box 807, Harpers Ferry, WV 25425.



TRAIL MAINTENANCE
Tools of Our Trade
submitted by Fran
The fire rake works well to cut leaves, mulch, small roots, small bushes, and debris.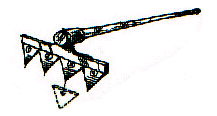 Although designed for forest-fire fighting, it works also well for cutting, pulling, and scraping away bushes and debris when clearing new trails. The rake head and handle are tapered for easy dismantling and handle replacement; like the mattock head simply slides off the handle. The rake cuts with four replaceable blades, which you can sharpen.
Paul C. Wolfe Memorial Shelter
The Paul C. Wolfe Memorial Shelter was built by ODATC members in 1991. It took approximately 30 people every weekend for two months to complete the shelter. Materials were hauled two miles by hand and tractor.
Paul Wolfe was an avid outdoorsman who left a portion of his estate to the ATC for construction of the shelter. The Wolfe family was present when the shelter was dedicated to Paul's memory in the fall of 1991.
Remember to take only pictures…leave only

footprints.

Return to Top of page